Well..there was three Thanksgiving games yesterday and not one of them was competitive...kinda like our league this week. The biggest takeaway of yesterday fantasy wise is probably a glimpse of just how lethal Eugene's team can be if his team is firing at all cylinders. Eugene pretty much punched his playoff ticket yesterday as he had 4 guys go yesterday and every one of them exceeded their projections. It's been a while since we've seen a DOMINANT Calvin Johnson performance..but that's exactly what we saw yesterday as Megatron EXPLODED with 11 catches for 146 yards and 2 scores. 31.5 points. That's what Eugene traded for. Martellus Bennett had 8 catches for 109, DeMarco Murray had 121 total yards and a TD, and Jeremy Maclin added 8 catches for 108 receiving yards. 79.5 points from 4 guys already. That is why no one wants to play Eugene in the first round. Sorry Dad...there's no way in HELL I'm beating Eugene with my team. It might not even matter as outside of Jordan Matthews for Dad (51 and a score) Terrence Williams and Brandon Marshall were terrible with only 11 combined points. Marshawn Lynch wasn't too great for Alex, but he still rushed for over 100 yards. The only other thing of relevance is Mayra trying to get her undefeated streak alive. At first..it looked like Mayra's streak was in legit danger as Matt Forte and Dez Bryant weren't great as the only combined for 17 points while Alshon Jeffrey had 71 yards and 2 scores for 23.5 points on his own. Unfortunately for Albert, Anquan Boldin and Frank Gore combined for a pitiful 5 points. It doesn't matter this week really, but Albert has to be worried about just how bad the 49ers offense looks right now as he has two shares in that offense. Here's a look as the Week 12 awards.
Wane McGarity Stud Of The Week
Justin Forsett (JTG's Warehouse)
Forsett helped finish off Dad and get Drew in the playoffs for the first time since the inaugural season of our league. Drew's addition of Rashad Jennings, Justin Forsett, and DeMaryius Thomas late in the season were critical in this playoff run and we'll see just how far this squad can go starting next week.
Michael Wiley Dud Of The Week
Brandon Marshall (The Bad Robofies)
Brandon Marshall hasn't even come close to be worth the 3rd round pick Dad gave up to acquire him after Week 6. When he needed him the most, in a must win game, Marshall came up the smallest out of his better players yet again and it as against a shitty Bucs defense. He only had 3 catches for 32 yards. His inconsistent play is the reason Dad's not making the playoffs for the 1st time in the 4 years he's been in the league.
Drew Bennett Sneaky Surprise Award
Jarvis Landry (Next!!!!)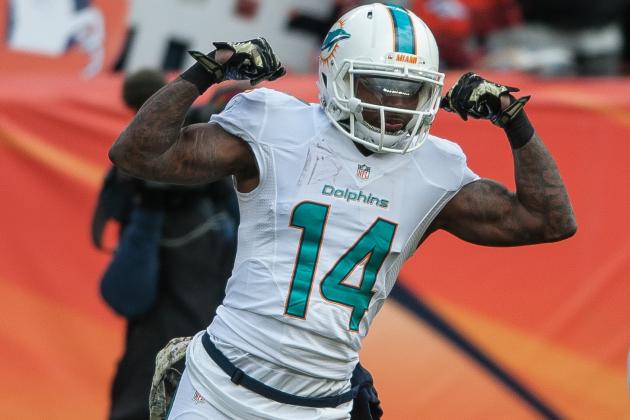 Here's one of the reasons I just couldn't put Leland the fuck away last week. Kudos to Leland for inserting Landry in his lineup as he had 7 catches for 50 yards and 2 scores. I would've been BEYOND irate if this fucker cost me win #3.
There is no Tony Romo Bad Decision Award