The last awards given out are the most prestigious awards given out. The players who made the most impact in our league make the elusive All Stud Team. Also, the most impactful player of the season will be named the Stud Of The Year. So without further ado....the 2014 Wane McGarity Bowl All Stud Team
Andrew Luck (Bigger Balls)
QB Rank: 1
Overall Rank: 1
1st Selection To All Stud Team
4761 Passing Yards, 40 Passing TD's, 16 INT's, 273 Rushing Yards, 3 Rushing TD's, 6 Fumbles Lost, 344 Fantasy Points
No brainer selection here as Luck to a giant step to fantasy elite status as he finished the season leading the NFL in TD passes and leading all fantasy scorers in scoring. He was a main cog in Mayra's record 14 game winning streak. We might be looking at the first of many selections to the All Stud Team.
Antonio Brown (Bigger Balls)
1st Selection to the All Stud Team
129 Receptions, 1,698 Receiving Yards, 13 Receiving TD's, 1 Return TD, 1 2 PT conversion, 20 Passing Yards, 1 Passing TD, 2 Fumbles Lost, 315.5 Fantasy Points Like he did to Browns Punter Spencer Lanning earlier in the season, Antonio Brown drop kicked the competition and was the run away #1 receiver in fantasy football. He's the only 300 point fantasy receiver scorer and finished 37 points ahead of his nearest competition. Thought to only be mostly a possession receiver..Brown shattered that stereotype and did it all with almost 130 catches, nearly 1,700 receiving yards and 13 TD's. He even threw a TD pass! Mayra's decision to keep Antonio Brown over Alshon Jeffrey was one of the shrewdest moves ever. Unfortunately for her, more than likely because of the depth of talent she has, she'll have to say goodbye to Brown next season.
Dez Bryant (Bigger Balls)
1st Selection to the All Stud Team
88 Receptions, 1,320 Receiving Yards, 16 Receiving TD's, 265 Fantasy Points
WR is tough this season because there were so many great players. If this was strictly a stats/fantasy points award, two others finished above Dez in those categories. I take more into account though than just stats, just like in the NFL. Dez had yet another amazing season and broke Michael Irvin's record for TD receptions in a season with 16. You combine him with Antonio Brown and it's the most dangerous receiving duo you can have and Mayra scored on both keeper picks by securing two top 5 receivers. Just like Antonio Brown, Dez will have a new home next season, and you can bet just like Brown, he'll be snatched up in the 1st round of next year's draft.
WR
Odell Beckham Jr. (Dr. Light's Robots)
WR Rank: 5
Overall Rank: 30
1st Selection to All Stud Team
91 Receptions, 1305 Receiving Yards, 12 Receiving TD's, 35 Rushing Yards, 1 Fumble Lost, 248.5 Fantasy Points
It was hard to keep Demaryius Thomas off this list considering he was the 2nd leading scorer in receivers. Remember, it's all about impact relative to the league, so in a "general" All Pro team Thomas would no doubt be a part of the squad, but since my criteria is league specific I had to nitpick on a few of these selections since it was so close. So with Demaryius, I took into account his slow start, which did no favors to Kenny, who ended up panicking and trading him off to Drew for a 3rd round pick. Thomas was part of a fringe playoff team and came up small in Drew's quest to win it all when it mattered the most. Then there was Jordy Nelson..Matt's "other" elite receiver. Nelson was AMAZING and finished 3rd in fantasy receiver scoring, but when it was just Nelson and Emmanuel Sanders, Matt was just a middle of the road borderline playoff team who more than likely had a 2nd round ceiling. What Odell Beckham Jr. did in our league I have never seen done. Beckham came in DOMINATED, and turned Matt from a playoff afterthought to a LEAGUE CHAMPION. Seriously, he did that. Had he played a full season, I don't think there's even any discussion that he makes this team. Even missing those 4 games, when it absolutely MATTERED..Beckham came up as HUGE as you can come up. Especially in the last two rounds of the playoffs. It's all about league impact and nobody had this kind of impact like OBJ.
DeMarco Murray (Rocket Man)
1st Selection to All Stud Team
1,845 Rushing Yards, 13 Receiving TD's, 57 Receptions, 416 Receiving Yards, 5 Fumbles Lost, 310.5 Fantasy Points
The question that has been attached to Murray's brief career so far has been "What if he stays healthy?" Well, we finally got our answer. Eugene took the risk in keeping Murray and all he got was the #1 RB in fantasy football and a guy who broke Emmitt Smith's team record for rushing yards in a season. Yeah..not too shabby. Murray was as consistent as you can get from a position that's very hard to get constant production on a week to week basis from. As a Cowboys fan, I hope it's not a one year wonder type season, and Murray is a free agent next season, so there's a small possibility he ends up somewhere else, but that's for the future, and as this year proves we now all know with a fully healthy DeMarco Murray is capable of doing.
Le'Veon Bell (Bigger Balls)
1st Selection to The All Stud Team
1,361 Rushing Yards, 8 Rushing TD's, 83 Receptions, 854 Receiving Yards, 3 Receiving TD's, 313.5 Fantasy Points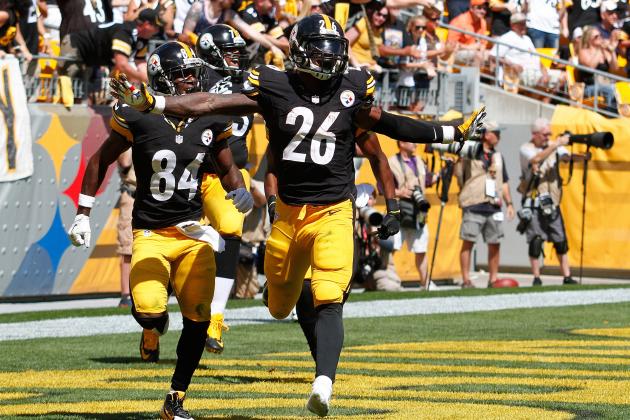 Before I gush about Le'Veon Bell...take a moment and observe just how dominant and talented Mayra's team was this season. This is her 4th player to make this squad. Her team consisted of the #1 QB, the #1 WR, the #4 WR, the #2 RB, the #4 RB, the #2 TE, and the #10 WR. I mean Mike Wallace was her "worst" player and he still was a top 20 WR on the year. That's beyond RIDICULOUS....so yeah it was justified to think there was no way she'd ever lose this season. Again, Mayra had the perfect blueprint basically for her first 5 rounds of the draft. She absolutely kept the right guys (Brown, Bryant) and then took a shot on a running back that many teams were shying away from. Bell was a solid rookie last season, but many believed he wasn't going to be ready for a full workload. Many reports had him in a full timeshare with LaGarrette Blount, and to risk a high round pick on a guy who's in a dedicated timeshare seemed to be way too risky for some. I know I wanted nothing to do with him, and happily took Randall Cobb over him. Mayra though, took the risk, and she absolutely killed it with this pick. Bell was a MONSTER this year, and that "timeshare" talk was bogus as Blount wouldn't even last on the team the whole year. What's even more amazing is that he's heavily involved in the passing game as well, as he finished with 2,215 total yards and 11 total TD's. Bell was her best player of her entire roster in my opinion. He kept the undefeated streak alive when it was in danger against my Dad, and although Mayra lost the finals, you can't put the blame on Bell who found the end zone that week. He's only finished year 2, so Bell's got plenty of mileage left and you can already pencil him in as Mayra's #1 keeper next season.
Rob Gronkowski (Winter Is Over)
2nd Selection to All Stud Team
82 Receptions, 1,124 Receiving Yards, 12 Receiving TD's, 219 Fantasy Points
No one ever doubted the talent..it was his health..year after year..that had people always worried about rostering Gronk on their fantasy squads. Gronk is the only one on this year's team to have made an All Stud Team before (back in 2011) and this year he once again proved that when healthy..there's not one tight end that's even close to the kind of impact he can have. Having a player like Gronk in a weak skill position like tight end is definitely a huge advantage and it's a big reason why Alex had a championship caliber team. Can he repeat this in 2015? That'll be the question everyone will have for next season.
2014 Wane McGarity Stud Of The Year
Odell Beckham Jr. (Dr. Light's Robots)
It was tough..I'd say up to the playoffs it was Le'Veon Bell's (With DeMarco Murray in the mix as well) award to lose...but since unlike the NFL this is NOT just a regular season award, playoffs are accounted for and when you combine Beckham's postseason heroics with his regular season domination, there's no doubt the Beckham was the Fantasy MVP of the year. He was the main reason we saw the biggest upset in league history..you can't over emphasize just how big that was. Well deserved in my book.
And that will put a wrap on what was a great 2014 season! I hope everyone enjoyed playing in the league, hope to see everyone back next summer for Year 6! I'll be putting up rule changes and also open up the floor for proposed rule changes probably during the weekend. Thanks again for participating!